What is Castle Fun Park and Where is Located?
Castle Fun Park is a Family owned Amusement Centre that has been in business for 27 years in the city of Abbotsford, BC. The park was invented in the mind of a young father from Kelowna, Hank Wiebe, who had already found success by creating an amusement park in Kelowna in 1981. By 1989, they had purchased a section of land on the fringe of Abbotsford and created the beginnings of Castle Fun Park.
The Park was originally named Wonderland and had an outdoor mini-golf course and about 50 arcade games.The jungle golf opened shortly after. By 1998, the park was renamed Castle fun Park and it continues to bring smiles to people of all ages with the various attractions that it offers
How far is Castle fun Park from the Best Western Plus Regency Inn Hotel?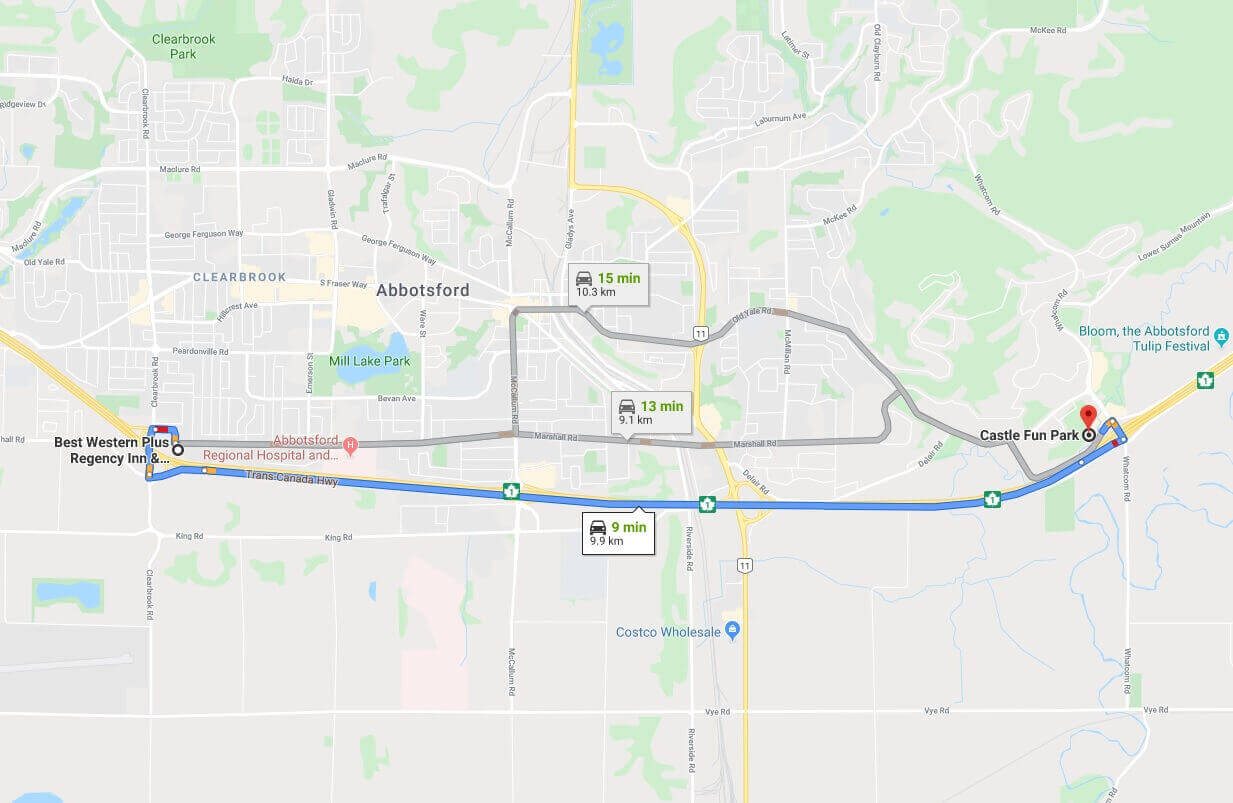 The Park is short 10 minute car ride from The Best Western Plus Regency Inn. Many families who stay at our Abbotsford hotel make it a point to visit this close and fun destination that offers flexible visiting hours and rates.
The park is open between 10am and Midnight each day and charges per attraction – making Castle Fun affordable at any budget.
They also offer special rates on Birthdays, Groups, Dry Grads and much more
What Attractions are located at Castle Fun Park?
The park has a variety of attractions that is sure to please everyone in the family regardless of age. Here are a few attractions that you can look forward to:
Go Karts

Bumper Cars

Bowling  

Laser Maze

Outdoor Golf

Jungle Golf

Coral Golf

Batting Cage

Typhoon
Bowling

Arcade Games

Shooting Gallery

Target Hockey

Driving Range
And much much more. For a complete list visit
https://www.castlefunpark.com/collections/attractions
Frequently asked questions about Castle Fun Park
What times does the park open and close
– Castle fun park is open 7 days a week from 10am until midnight. The mini golf and batting pavilion close at 11pm and the Go-Karts operate seasonally.   
Where can you find food if you get hungry?
– Castle Fun Park has hot food and snacks available for your convenience. Options include hotdogs, pizza, hamburgers, quesadillas and much more. The park even has great options for Birthday parties that include fruit and veggie platters. If you would prefer to bring your own snacks, Castle fun park has an area outside the Park itself to enjoy a picnic.
Can you Purchase a Gift-card for Castle Fun Park?
– Yes, Gift Cards can be purchased online and make perfect gifts for birthdays, special events or any celebration.
Are there any special offers at the Park?
– Yes, the Park offers seasonal mid-week  (Tuesday to Thursday) specials on arcade games, birthday party and group packages. There are also specials listed on the Park's Facebook page