Located between Aldergrove and Abbotsford, the Fraser Valley Trade and Exhibition Centre, or Tradex, is one of British Columbia's foremost trade and exposition facilities. This incredible venue has over 120,000 square feet of exhibition space and is second only to B.C. Place Stadium in size and capacity. Attracting thousands of people from all over the world, the AbbotsfordTradexCentre hosts more than 90 annual events, ranging from sporting events and trade and consumer shows, to banquets, family functions, and special events.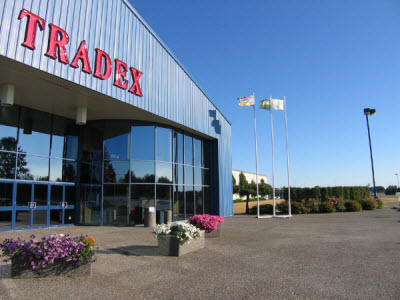 About The Tradex
The Abbotsford Centre is made up of two connecting buildings, each capable of holding up to 600 exhibition booths. Conveniently located near the Abbotsford airport, the venue has ample parking for approximately 4,750 vehicles. Don't worry if you get lost, there is over 150 friendly staff to help visitors navigate their way through this impressive H-shaped centre. If visitors get hungry, there is a giant food court, offering a wide variety of choices of whatever you are in the mood for.
The Cornerstone of the Event Industry
Since 1991, the Abbotsford Tradex Centre has been hosting a number of spectacular annual events. Each year, thousands of guests come from all over to see a broad range of shows, such as  the Vancouver Motorcycle Show, the Travel the World Dog Show, and the Fraser Valley Boat & Sportsmen's Show, as well as a number of great events, including corporate functions, sporting events, and product launches.Come and experience for yourself why Tradex remainsthe event industry leader in the Fraser Valley.
Something for Everyone
This amazing Abbotsford centretakes great pride in all the incredible shows and events it has to offer. From trade and consumer shows to agricultural shows and sporting events, there are plenty of reasons to visit this one-of-a-kind venue. If you are looking for some great things to do in Abbotsford, the Tradex Exhibition Centre has something for everyone.
The Premier Hotel near Abbotsford Tradex
Just minutes away from the Tradex Exhibition Centre, the Best Western Plus Regency Inn and Conference Centre provides the best value and comfort, making it theideal Abbotsford Tradex Hotel.
Don't miss out during your stay in Abbotsford. From Tradex Trade and Exhibition Centre to a host of other Abbotsford hot spots, our award winning hotel at the BEST WESTERN PLUS offers unparalleled accommodations and amenities to meet the needs of all our guests.
For more information about our award winning Abbotsford hotel, contact us toll free at 1-800-771-3077.